StellarCon 1997
Calgary, Alberta, Canada


All images property of K Claar
Do not use elsewhere without permission


The "We Dare You . . ." gift
RanDoM Flighters Annie, Cheryl,
and Kim presented to Robbie
What's the deal with the "We Dare You . . ." gift for Robbie? Well, you see, Robbie had developed this habit of wearing the same black suit to his Cons. All our pictures were beginning to look alike even though they were taken at different Cons. The dreaded black suit became known as "That Darn Black Suit." RanDoM Flighter Lillian first proposed the idea of finding a nice bright shirt for Robbie. Something to brighten up his Con appearances. An Aloha Shirt! Time passed. The idea continued to blossom. When Robbie replaced Ethan Phillips at nearly the last moment at StellarCon, Project "We Dare You . . ." was born. Robbie grinned big time when I handed him the gift box you see above. I had wrapped it in a white dress shirt box and plastered Harley Davidson stickers all over the giftbox, along with a big red "We Dare You . . ." tag. I could see the wheels spinning in Robbie's mind as he must have surely wondered what he was letting himself in for. After "ooohing" and "ahhhing" over the Harley stickers, he opened the box to find a note from Annie, Cheryl and myself that read as follows:





We dare you to wear this Aloha shirt for your stage presentation at StellarCon, Sunday, November 2, 1997.

Why?

Gee, Robbie, are you aware that you've worn what we've come to call That Darn Black SuitTM to probably ninety percent of your Con appearances this past year? We decided you needed something a little more colorful to wear.

So . . . are you up to the Dare? <grin> We, your fans and RanDoM Flighters, dare you to wear it on stage Sunday and tell the audience why you're wearing it.

RanDoM Flighters:
Kim
Annie
Cheryl

P.S. The floweres that decorate this shirt are called Anthuriums, more commonly known as "Naughty Little Boys." We thought that appropriate for Paris and most likely for you as well. <grin>
And Robbie's reaction? A big grin. And, of course, he just happened to be wearing That Darn Black Suit at the time. He made no promises to wear the shirt the next day. But he didn't say he wouldn't wear it either. Knowing Robbie has a great sense of humor, we kept our fingers crossed that he would.


And guess what?

Wear it, he did!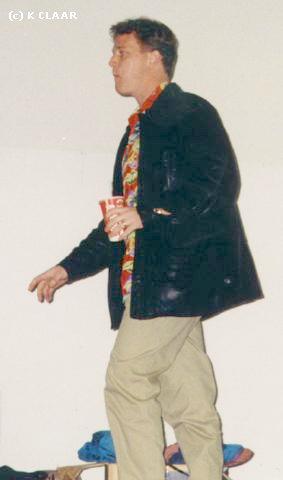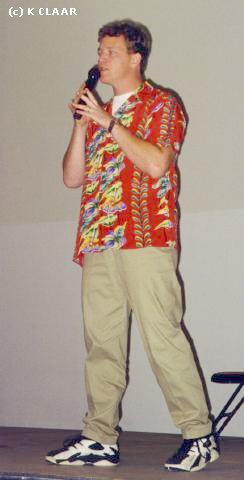 Robbie appearing on stage Sunday clad in the aforementioned Aloha shirt. He made sure Annie and I saw he had it on before he climbed up on the stage. I gave him a big thumbs up.

We needed proof, you see, that he had indeed risen to the challenge. So Robbie posed for a few photos for us.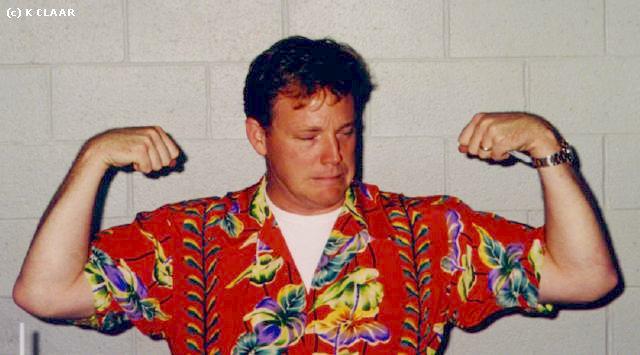 Then he got goofy. What can I say? Turnout for the Con wasn't great and we told Robbie we needed to use up the rolls of film in our cameras so he started posing . . .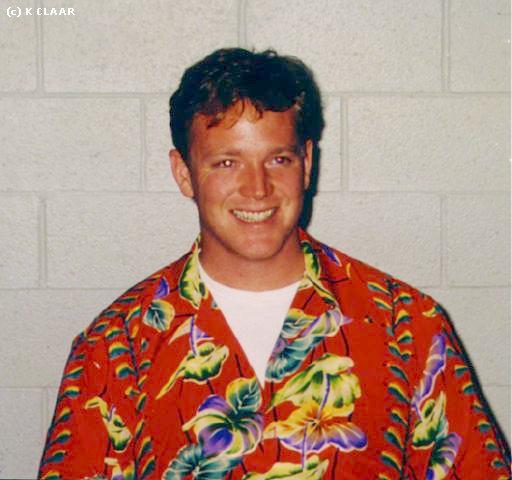 Of course, a smile never hurts

A lull in the action